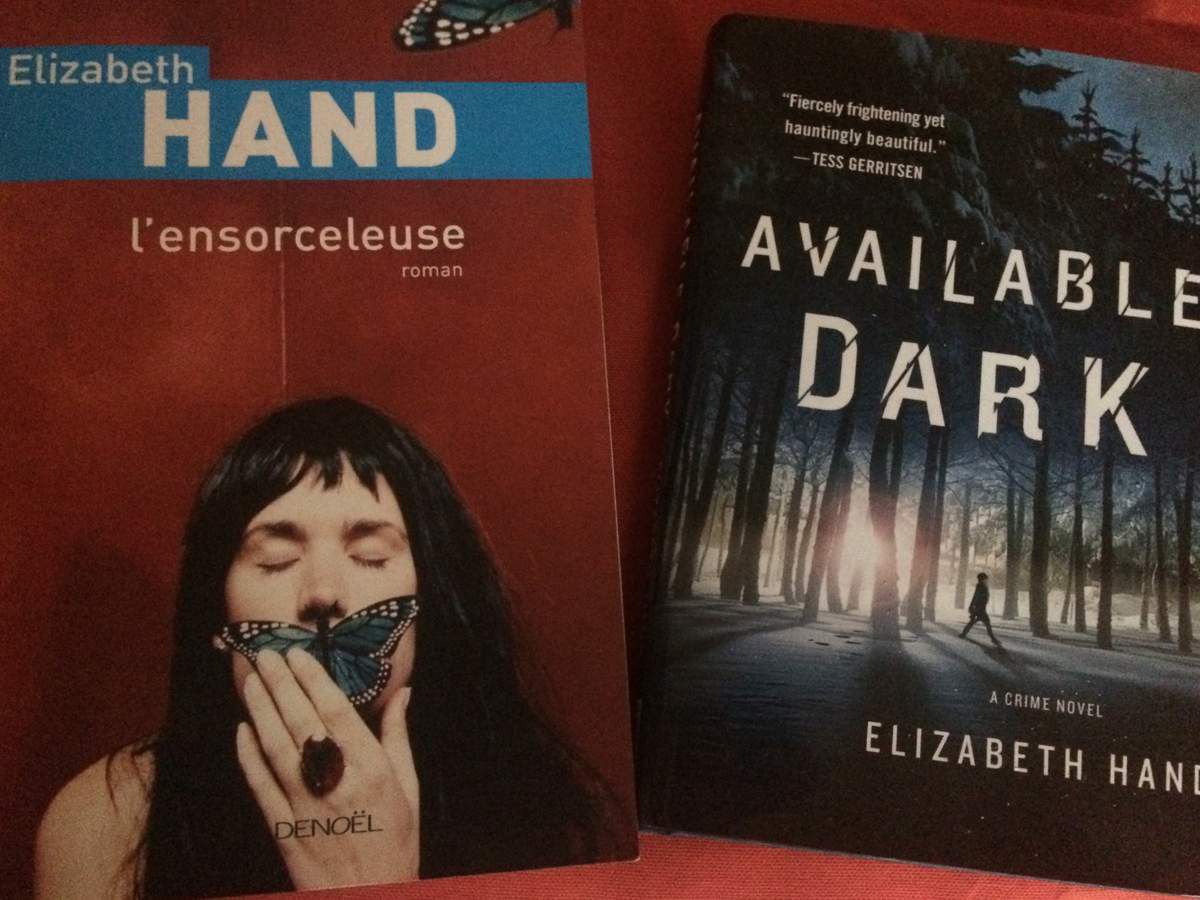 I had dreamt of meeting Elizabeth Hand for a long time, « Mortal love » (published in French by Denoel and Folio SF in paperback) is one of my favourite novels, and so are the three novels starring Cass Neary : « Generation loss », « Available dark » and « Hard light ». (I talked about these novels here, a few months ago)
On a november afternoon, I was lucky enough to speak with her on skype. We talked about her inspirations, her writing routine, her plans (wether with Cass or not), and many other things.
The whole conversation was supposed to be recorded, but unfortunately, the voice recorder failed spectacularly.... Since sharing the transcript has proved impossible, I'm going to recap some of the interesting points we discussed, along with some precisions Elizabeth subsequently gave me by email.
Once again, a huge thank you to her for her time and kindness ! (et merci Diana pour la relecture !)
On her career and her studies :
Elizabeth grew up in the USA, more specifically in the state of New York, she now lives between Maine and London. She studied playwriting and anthropology. We talked about the several awards she received during her writing career : in 1995, the James Tiptree Jr Award for « Waking the moon » (joined first place with « The memoirs of Elizabeth Frankenstein » by Theodore Roszak), two Nebula Awards for « Last summer at Mars Hill » in 1995 and for « Echo » in 2006. « Last summer at Mars Hill » also received the World Fantasy Award in 1995, and « Generation loss » received the very first Shirley Jackson Award in 2007.
She's a critic for several newspapers such as the Washington Post or the Los Angeles Times, and for websites such as Sfsite.com.
(Note : just a few days before, she lead a discussion between Mark Z. Danielewski, Dan Chaon and Brian Evenson at an event... Could you imagine what a blast it must have been ? A discussion between the authors of « House of leaves », « Ill will » and « Last days » lead by her ? If there Matt Ruff had been there too, I would have had a heart attack hearing about this...)
When I asked her about the books that have impressed her lately, the first that came to her mind is « The mere wife » by Maria Dahvana Headley, a novel in which the author reimagines the poem Beowulf, but set in a modern English suburb worthy of J. G. Ballard's settings. (Elizabeth Hand reviewed it here)
She also teaches during the summer Clarion West workshops for speculative fiction. (Note : look here, you'll see she's in great company)
On the authors important to her when she was young and today :
She talked about Tolkien, whom she read when she was a teenager, she talks about Angela Carter, Samuel Delany, Lawrence Durrell, and Alice B. Sheldon, the cult author who wrote under the name of James Tiptree Jr. She wrote about her, by the way, in her collection « Fire » : « The woman men didn't see » is an expansion of one of her previous piece about this author.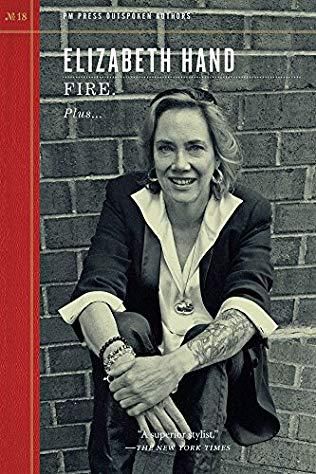 Elizabeth mentioned later that she really loves Arthur Rimbaud. She often feels sad that young American people don't even know him, so she regularly talks about him in her creative writing classes, she's still amazed by how much he had achieved when he was only 16 or 17.
On « Mortal love » and how Cass would have reacted if she ever met Larkin, one of the novel's unforgettable character :
The idea for this novel came after she saw some exhibitions about the Pre-Raphaelites in London. It's one of the novels she enjoyed writing the most, as she enjoyed researching for it, and devoured everything she could find on the subject. This is one of the important points about her writing : a total immersion in a subject that allows her to write, to create or recreate characters in the most faithful way possible, and to truly understand them. She thinks this approach probably came from studying drama and how actors immerse themselves in a role. I told her it's one of my favourite novels and when I read it again a few months ago, I was almost expecting Cass to show up at some points in the book. How would Cass have reacted to meeting Larkin and what would have happened, in her opinion ? Elizabeth smiled and said they probably would have had a lot of fun together during 24 or 48 hours, drinking absinthe and other stuffs in bed, and then Cass would have got up and gone without warning...
On Cass Neary :
Elizabeth usually says Cass kind of represents her own dark side, that she put a lot of herself in the character. She also sees her as the flip side, more or less, of the main character in « Waking the moon », Katherine Sweeney Cassidy. At first, she tried to write « Generation loss » as an urban fantasy novel with the title « Crossing the Dream Meridian » (a great title) but it didn't work. Then, she tried it with a tone closer to a horror novel but then again, no luck. She then decided to keep the setting but to write it as a thriller instead and that's when she felt she really had something going. Unlike « Mortal love », it wasn't an easy novel to write for her, she didn't enjoy writing it as much, she felt like working without a net after her previous novels with more of a fantasy or sci-fi twist.
Regarding « Available dark », Elizabeth confirmed to me she went to Iceland before and after the 2008 financial crash. She really liked the integrity and the innocence she felt in Icelandic people, she was all the more sad and shocked to see all the repercussions from the meltdown during her second stay there. She tells me the evil bankers were nicknamed Vikings, and recalls seeing a lot of vikings' dolls hanged in the streets full of abandoned cars. She also tells me she took inspiration in different stories of Black metal killings in the nordic countries (note : like in Norway, see here), she also indicates that the Icelandic Black metal scene was relatively discreet at the time, it's a bit later that Iceland saw a multiplication of Black metal bands. (Note : an interesting article here)
She had a whole narrative arc for Cass from the beginning, at least up until the fifth novel with her, which she intends to write as soon as possible. Her character changed a lot very quickly and suddenly since « Generation loss ». Only a few months have passed for her between the first and the third novel, and these are the changes she particularly likes exploring with Cass.
« The book of lamps and banners », Cass' fourth adventure, is scheduled (sadly) for 2020, but Elizabeth Hand gave a few details about the story and her inspirations. The title comes from a magic ancient book, a forbidden and presumed lost book which Cass will hear about. She will also meet a software developer who seems to possess a copy of it and seems to use it to manipulate what people see and then control their behaviour. The inspiration behind it came from the « Picatrix », a medieval book of magic and astrology she heard about. (Note : it is said that Pic de La Mirandole had one copy of it)
On the creation of artists and works of art in her novels :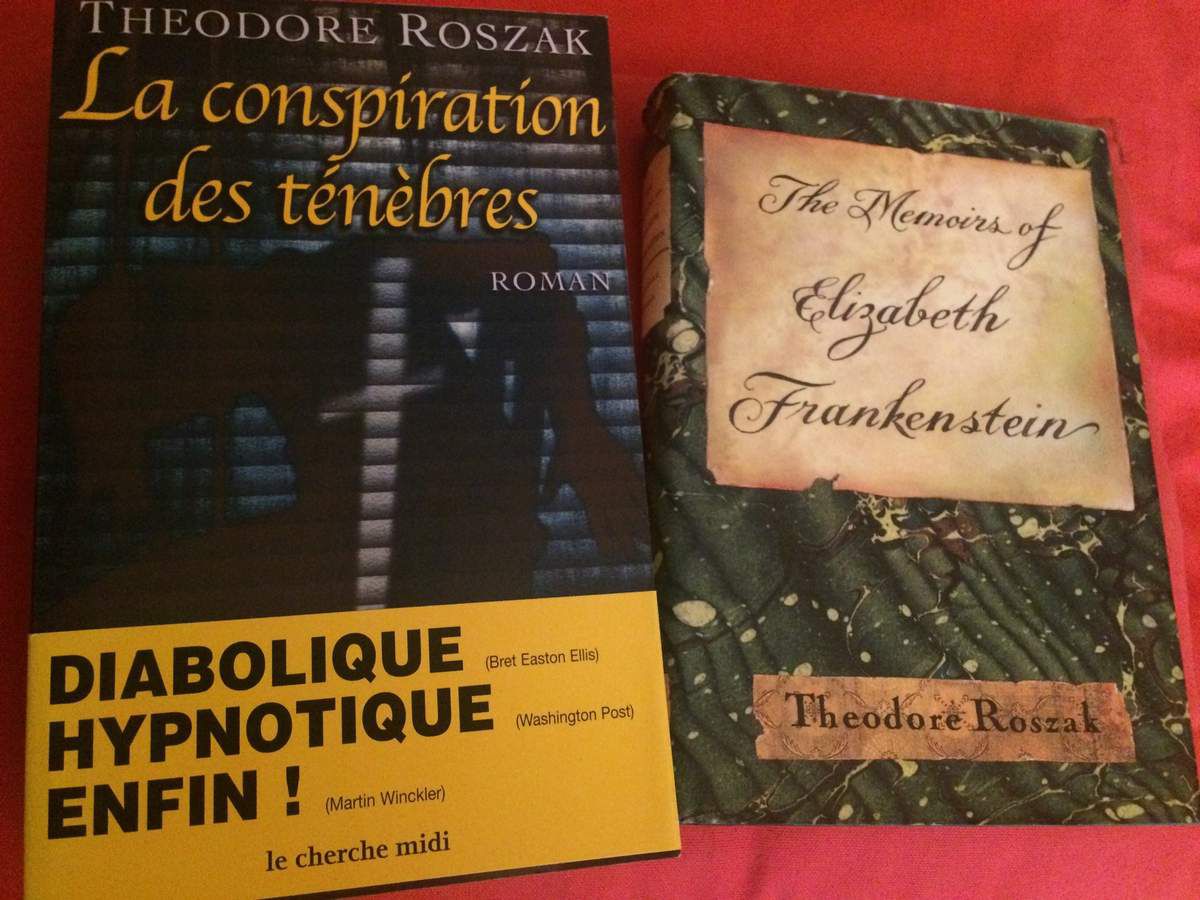 I already talked about it, I know, but whenever I read Theodore Roszak's Flicker, I wish I could watch Max Castle's movies, whenever I read Cathi Unsworth's, I wish I could listen to the songs of Bloodtruth, the band she created. It was the same while reading Elizabeth Hand's novels. I wished I could browse Cass' collection of photographs « Dead Girls », watch « Thanatrope », Leith Carlisle's movie in « Hard light », have a look at Kaltunnen's photographs in « Available dark » and see Radstock's paintings in « Mortal love ». How does she create such characters, such works of art capable of making a reader feel that way ? Here again, she insisted on the fact that she always does a huge amount of research, how much she likes to completely immerse herself in a particular topic and read everything she can find about it. It truly is this very immersion that gives her a way into her character, helps her to really understand them, understand what makes them tick, and find the most faithful voice possible. She is often suprised to see how much is available on internet, on youtube. For « Wylding Hall », her short novel about the acid folk band Windhollow Faire and what really happened during their stay in an English mansion, she remembered reading and listening to a lot of things related to Richard Thompson and Nick Drake for example.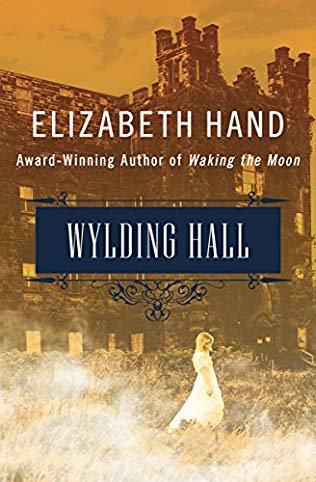 She also insisted on the fact that a lot of her characters are inspired by other people, but they are not based on them. She didn't read Cathi Unsworth, but for Leith Carlisle, Max Castle was one of the inspiration (she likes « Flicker » a lot). She also took inspiration in « Performance », the movie directed by Nicholas Roeg and Donald Cammell, with Mick Jagger in his very first role. It's the story of a violent thug from London who goes into hiding (note : this movie dates from 1968, but was not released and screened until 1970 because Warner Bros judged it too violent and too explicit). Elizabeth told me it is said that some people even threw up watching it !
I thanked her again after that, this time because she made me discover William Mortensen (note : a glimpse about him here) in the same novel, an amazing artist I didn't know. She talked a bit more about him, she described him as an incredible photographer well ahead of his time. He had started his career working in the movies industry and was mostly known for his portraits at first, before moving to a pictorialist style, manipulating and reworking his photographs until they were much closer to a painting than a simple portrait, his style becoming more and more dark and grotesque.
On the titles of the three Cass' novels :
Elizabeth revealed that the three titles actually came from a friend of hers, Bob Morales. She couldn't find one for the first novel, she asked him and he just said "Call it Generation loss", and that was that. After that, she asked him for advice the second and the third one too. Sadly, he has passed away since, whichmeans she had to choose the title for the fourth one on her own. She likes that these three titles refer to photography, and that "Generation loss" particularly reflects Cass's feelings in the novel, being a survivor from a gone generation, a ghost from a generation decimated by the AIDS epidemic among other things, being like the "Ghost of Punk".
On the folklore present in her novels:
In "Mortal Love", she played with the fairy creatures, with the Fairy King and Queen, in a way less frequent than in classic fantasy novels. I talked to her about Mishell Baker, the author of "Borderline", "Phantom Pains" and "Impostor syndrome", three novels I liked a lot which also have an interesting take on fairy tales and fairy creatures. In the universe created by Mishell Baker, every human is supposed to have a soulmate among the fairy people, an "echo". When a human meets his fairy echo, if they stay in contact regularly, they both feel a well-being and a deep inspiration. A lot of artists have met their echo overtime, there are some funny winks to Dostoievski and Kubrick for example... Elizabeth has not read these books, but she told me she met Mishell Baker in one of her Clarion classes while she was a student. She found her to be a gifted writer, and she really liked her as a person.
In "Available dark" she used a bit of Icelandic folklore with the Yule lads, here again I thanked her because I hadn't heard of them before reading the novel. One day, she saw an illustrated children's book about them in an Icelandic shop, they were so scary she thought they were perfect for the novel and for the inspiration behind Kaltunnen's transgressive photographs.
I was curious to know whether there is any other folklore Elizabeth would like to explore in a novel, with or without Cass. She was not really sure because she is little reluctant to exploring a folklore not close to her, even after a lot of research. She thought there were a lot of writers who do it very well today. She mentioned then Goethe's poem "Erlkönig" ("Le Roi des aulnes" in French), and said that she'd like to delve into that one day. After that, she smiled and said the alder trees are considered evil in Sweden...
(Note : when I checked a few things afterwards, I realized Elizabeth Hand has written a short story called "The Erl-king", we can find it in her collection "Last summer at Mars Hill", this short story was published later in France in "Etoiles vives n°9" with the title "Le Roi des aulnes", with another one, "Au mois d'Athyr". "The Erl-king" is a great story that foreshadows a lot of things she adresses in her later novels)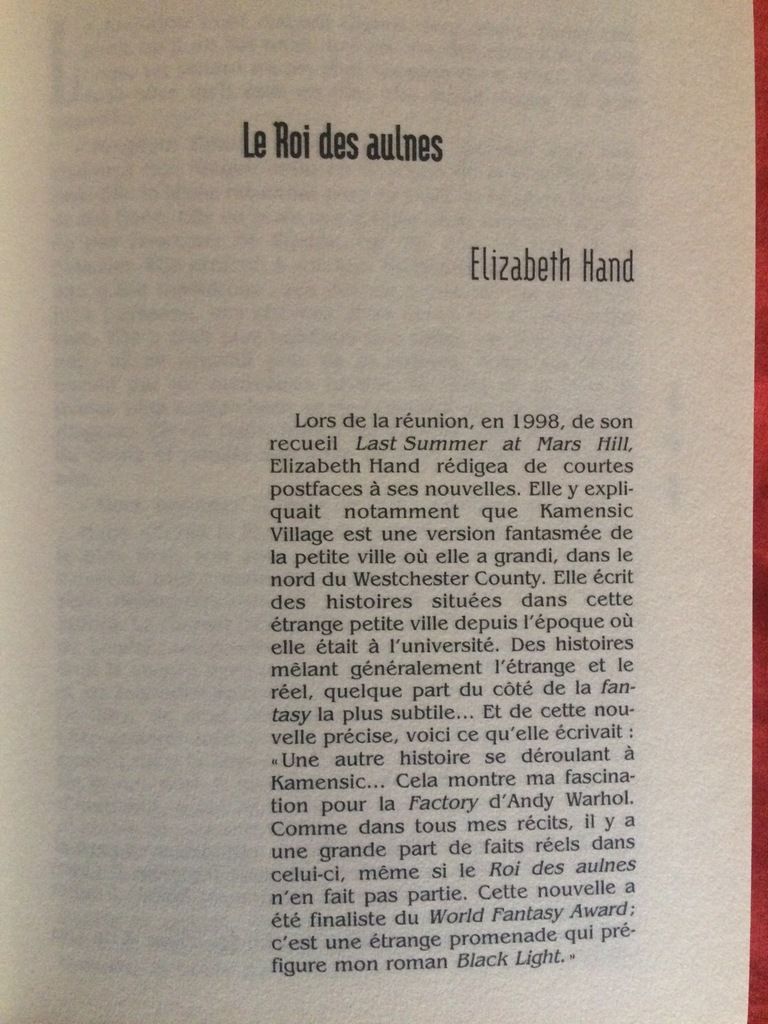 On her participation as a judge for the Salam Award for Imaginative Fiction :
In 2018 Elizabeth was part of this award which was created in 2017 to promote and reward science fiction writing in Pakistan. She tells me it's thanks to a writer friend of hers, Usman Malik, that she became one of the judges. She really enjoyed the experience, she insisted on the fact that anything allowing to expand her horizon and expand English speculative fiction's horizon is a good thing, it's even more important nowadays.
(Note : the 2018 winners have been announced a few weeks ago, you can find the details here)
On her novels' publication in France :
Only a few of her novels have been translated in French, which is a shame, I wanted to know if there was any book of hers she would love to see published in France. She never really thought about it, she was very happy when "Generation loss" got translated by Super 8. She feels like Cass' novels should interest French readers, she hopes the other novels will be published too. A moment later, she says maybe "Illyria", a novel she is particularly fond of.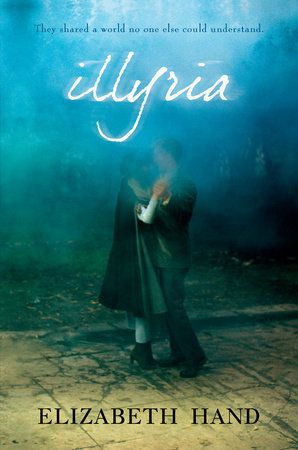 On Cass's novels' adaptation in TV show :
Elizabeth Hand talked about it last summer in an interview for The nerdy book fairy, I asked her if she can give any precision about it, if she's going to be involved in it. Unfortunately, she couldn't say anything specific, it's still in the early stages, she can't reveal any name, but she says a very famous actress might be interested to play Cass, and if it comes to fruition it might be something great. She would like to be part of it, one way or another, maybe as a producer of some sort, just to make sure her creation is respected, but nothing is really decided yet. The only thing left to do is to keep our fingers crossed...
Finally, her next novel to be published in English is called "Curious toys", it was originally scheduled to come out in june next year, but it is now mentioned october 2019 on a few websites. This novel takes place in 1915 in Chicago, around the Riverview Park, the main character is a young girl called Pin, the daughter of a fortune teller. She's going to meet the artist Henry Darger and they're going to sort of investigate together the acts of a brutal serial killer...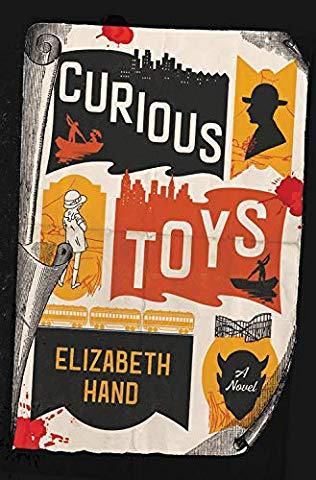 Elizabeth Hand's website
Elizabeth Hand on Fantastic Fiction
Pour être informé des derniers articles, inscrivez vous :